Develop a Strategic Plan for Competitive Advantage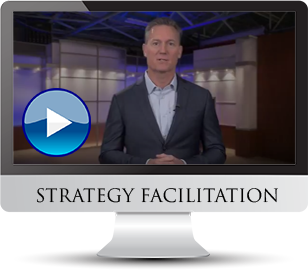 Rich Horwath on Strategy Facilitation
Your Challenges:
"We don't have a simple and practical process for developing strategy."
"Our strategic plan is nothing more than a to-do list with a bunch of tactics."
"We don't have competitive advantage and risk becoming a commodity."
Rich's Solutions:
1. A proven five-phase strategy development process that stimulates new thinking, teaches managers the key strategy concepts and tools and leads to a useable strategic plan.
2. Transform strategy from a once-a-year event that produces the never-used strategic plan in a binder gathering dust to a continually evolving, real-time strategy blueprint that guides people's daily activities.
3. Build the knowledge, skills and tool kit to understand, create and maintain competitive advantage in highly competitive markets.
Rich Horwath blends his practical experience as CEO of the Strategic Thinking Institute and a former Chief Strategy Officer with his expertise as a New York Times & Wall Street Journal bestselling author and professor of strategy to provide managers with a proven five phase process for transforming strategic thinking into a solid strategic plan built on true insights.
The Five-Phase Strategy Process
Designate the team
Select the process
Collect intelligence on market, customers, competitors and the company
Complete the Strategy Survey
Educate the strategy team
Schedule strategic thinking session.
Develop the workshop flow.
Identify the strategic thinking models.
Lead the workshop.
Post-workshop review of models.
Identify the strategic plan format.
Transform insights into the plan.
Develop visuals to communicate the plan.
Review the plan with leadership.
Modify the plan.
Create rollout plan.
Secure the necessary resources.
Assign accountability for initiatives.
Communicate the plan.
Monitor strategy with metrics.
Schedule strategy tune-up sessions.
Determine the agenda.
Update strategic plan weekly.
Conduct strategy tune-up sessions.
Monitor the process.
Roll over each phase to see its steps