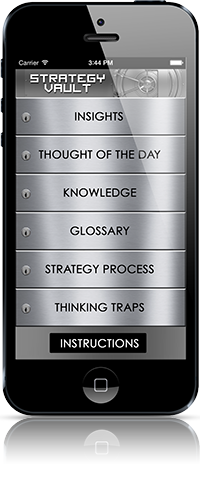 The Strategy Vault is accessible via a web-based application so it can be used on smart phones and tablets. The Strategy Vault web-based app includes six sections:
Insights: Now record your insights in real-time on your phone via text and tag them by category (personal, customer, market, etc.)
Thought of the Day: Each day, view the strategy quotation/data to inspire your strategic thinking.
Knowledge: Read articles, watch videos and listen to MP3s on the most important strategy topics.
Strategy Process: Follow your team's strategy process and use the checklist to ensure you're covering all the bases.
Glossary: Look up strategy terms and find their meaning in one convenient location.
Thinking Traps: Prevent yourself and your team from falling into strategic thinking traps using the behavioral checklist.
Contact us for more information and pricing