All over the world, strategies were dying. Thousands of businesses faced bankruptcy. People's jobs were at stake. But what was the nefarious force killing them off? And who could save them?
READ ON!
New research shows the No. 1 most important leadership capability for executives is strategic thinking.
Yet, only 3 out of every 10 people are strategic. With the leading cause of business failure being bad strategy, it's critical that you and your team are equipped with the knowledge, skills and tools to think strategically.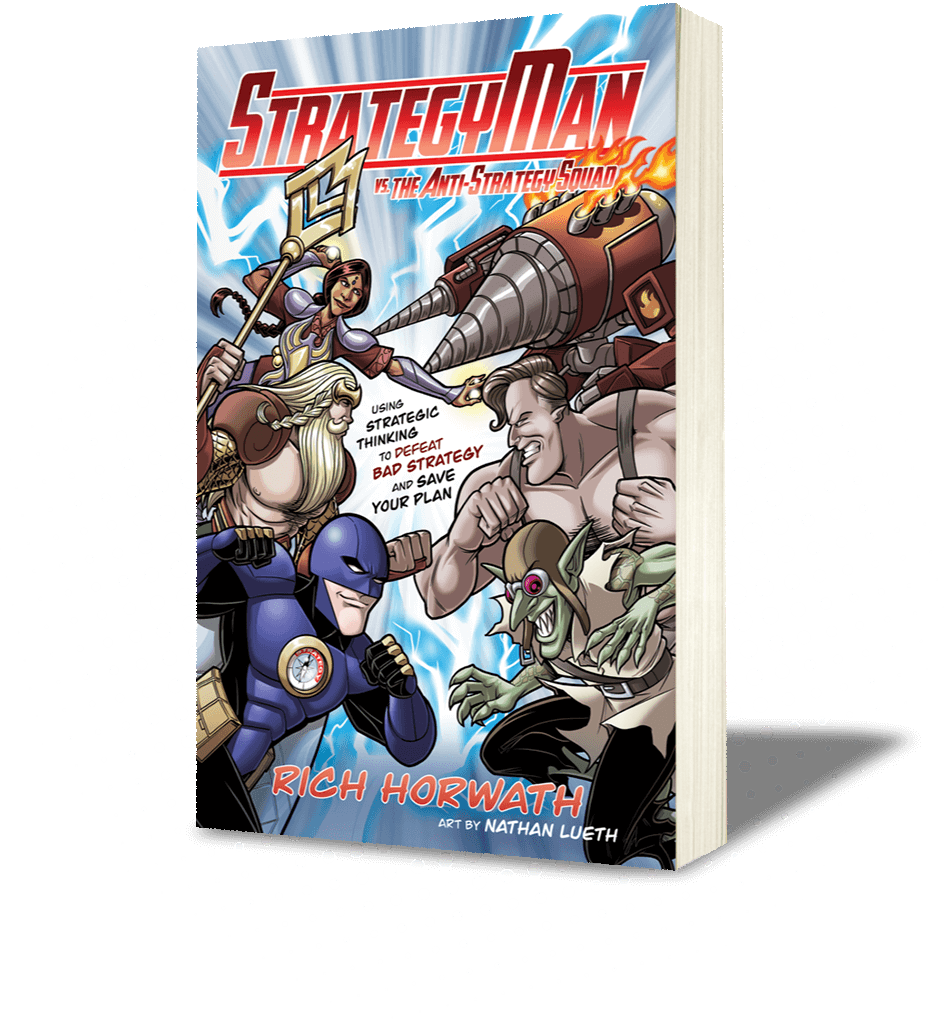 In the StrategyMan vs. the Anti-Strategy Squad book, you'll learn how to:
Develop

a common language for strategy

Create

a shared understanding of strategy

Design

a practical toolkit for strategy

Think

strategically on a daily basis

Infuse

innovation into your strategies
Facilitate

strategy conversations

Lead

strategic meetings

Set

clear strategic direction

Grow

your business profitably

Create

competitive advantage
"Rich has done the impossible–he has created an engaging, insightful and thoroughly entertaining book on strategy that will improve strategic thinking in any organization from the C-Suite to your frontline workers. Strategyman saves the day—this is the most creative business book I've ever read."
Bradley Hartmann, President & CEO, Red Angle
"Rich Horwath presents actionable tactics in an engaging and creative way that vividly illuminates strategic thinking and strategic management processes. With this book, he has saved strategic thinking and management from being its typically dry and uninspired character and re-imagined it for all to thoroughly enjoy, learn from, and put to good use."
Dr. John J. Sosik, Professor of Management and Organization, Penn State University
"StrategyMan vs. The Anti-Strategy Squad is another great resource to help our customer-facing teams strengthen their strategic mindset. Rich has been a valued partner and has been instrumental in building the strategic thinking capabilities within all of our teams."
Kevin Kutler, Executive Director, Head of Training and Development, Novartis
"In this new book Rich has found a way to take the abstract concept of strategy and address the fact that while we use the term frequently, many, if not most, don't understand what exactly a strategy is. The comic book format is a fun way to convey real business knowledge."
Don Sawyer, Senior Vice President, Bayer Healthcare
Listen to what happens when a strategy text book and superhero comic book collide in an entertaining and educational tour de force starring more than 20 professional voice actors, epic music and Emmy-award winning sound.
Audio Samples
Chapter 6: The Meeting Menace
Chapter 8: Dr. Yes
Running time: 3 hours 15 minutes
$25
Digital MP3 Download