Research with 250,000 executives shows the most important role of a leader is setting direction. To set clear direction requires you to continually enhance your thinking and planning, which is where executive coaching and strategic counsel can be of great value.
As a senior leader, do you face any of these challenges?
"I want to become a better leader and would like high-level content that's customized to my specific needs."
"I would like to have an expert strategy coach to brainstorm big ideas, think out loud with, and be a sounding board for important decisions."
"I could benefit from a more structured approach to my professional development and new tools to help my team think strategically about the future of the business."
"I want to be fully prepared to navigate the business to ensure I'm not missing improvement possibilities and give my business the best opportunity to achieve our goals."
"I wanted to thank you for helping me realize the power of coaching to inspire the changes I needed to make to accelerate my growth as an executive leader. You have imparted critical tools to enable me to think, plan, and execute as a truly strategic executive. Your explanation of strategy and strategic thinking is creative, thought provoking, and easy to assimilate. I highly recommend your coaching and books to anyone aspiring to be a successful executive leader."
"I have worked with several executive coaches over the course of my career. I will say no other coach has been more impactful on my professional and personal growth than Rich Horwath. I am developing practical skills to enhance my strategic capabilities and regularly apply this new way of thinking to most everything I do in my role today."
"Rich Horwath does an exceptional job of quickly understanding your business and then applying the most effective and efficient strategic tools to add significant value to the organization. I would very much recommend Rich to any leader that is looking to improve their strategic thinking, planning, and execution to help enhance both top and bottom line. His Strategic Coaching program was a great experience!!"
"Working with Rich one-on-one really challenged me to think about our organization's current approach to strategy. He asks great, thought-provoking questions that make you pause and think about your next move. There were many tips that I took away that could be applied on a daily basis, such as regularly challenging how we use our resources. The tools he shared helped us sift through priorities, define our goals, and create a winning value proposition. We exceeded our expectations 12 months later!"
"Rich brings a personal, inviting style to business growth, and leadership development. His strategic coaching has broadened our business and my personal success. He is quickly able to identify gaps in strategic thinking and create a disciplined approach that our entire organization has integrated into our business. Rich also facilitates discussions on leadership and serves as coach and counsel for our teams. This team-based approach combined with individual coaching has led to lasting change and increased our ability to create meaningful strategy and sustainably execute."
"Rich tailors his approach to meet my specific needs based on my greatest opportunities for development. Every session with Rich results in improvements for me, both professionally and personally. Learning new ways to decision, solve and grow from Rich Horwath is the greatest gift my company provides to me."
"Rich has unlocked my strategic leadership potential through thoughtful conversations, insightful questions, and resources that are timely and effective. Whether it's improving your decision making, talent assessment, executive team development, identifying your leadership values, succession planning, or board engagement – Rich is your coach! I'm not sure I can truly encapsulate my interactions and own personal development in any other way than to say – I believe I am a better leader for my teams, my company, and myself because I met Rich."
Overview of the Strategic Executive Coaching Process
Introductory conversation to gain an understanding of your situation and specific needs
Completion of the Strategic Executive Survey to provide an in-depth view of your approach to the business
Identification of business issues and developmental areas of focus
Monthly interactions via video, phone, email, and in-person to discuss issues and review work
Executive Coaching engagements are structured in 6-month or 12-month blocks
Benefits of Engaging in Executive Coaching With Rich
Customized strategic leadership development coaching sessions using select tools from more than 100 proprietary resources included in the Strategic Executive System
Enables you to confidently set direction and minimize risk because you can discuss your key business issues and plans with one of the top strategic thinking and planning experts in the world
Allows for honest, objective feedback and gives you a safe harbor to "think out loud"
Continuous source of insights to help you achieve your business goals
Executive Coaching Results – A Case Study
See how we've provided executive development coaching and counsel to leaders like you
The Strategic Executive System
Navigate your business and develop your strategic capabilities.
"The most important role of a leader is setting strategic direction."
McKinsey & Co. study of 250,000 executives
"Have a strategic approach to the business is 10x more important to the perception of a leader's effectiveness than any other behavior."
Management Research Group study of 60,000 executives
The Strategic Executive System includes more than 100 tools to help you stay on top of your business and develop your strategic leadership capabilities. The system is accessed by Rich in his coaching work with leaders and can also be licensed by executive coaches looking for a vast platform of content to use with their clients.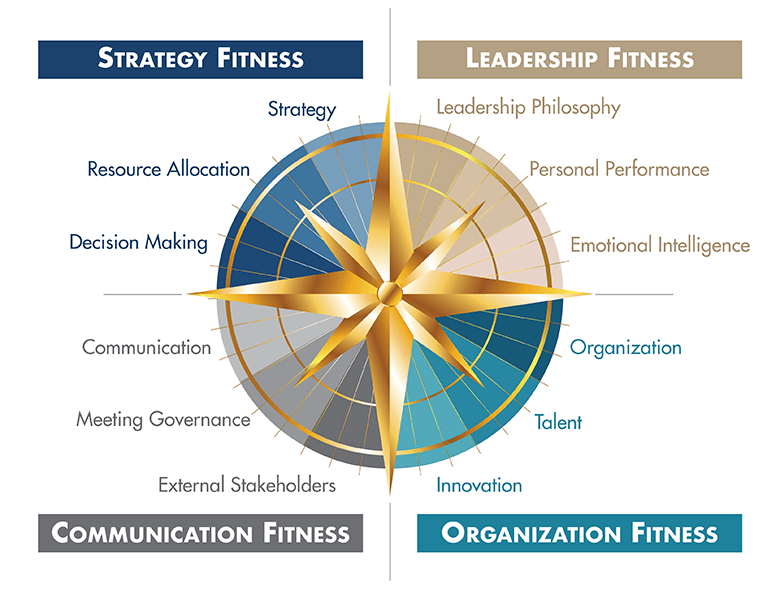 The process begins with an 80-question assessment to identify areas of strength and areas of development. In addition to the 100+ tools, the system also includes a Video Vault with dozens of instructional videos on how to use the tools in depth. It also houses the digital Strategist Journal, a system for structuring an executive's strategic thinking and planning and a repository for their ongoing insights.
For executive coaches, you will receive access to the assessment, system web site, and a 25-page Coach's Guide to help you select the appropriate developmental exercises for your clients based on their assessments.
Great leaders including Steve Jobs (Apple), Meg Whitman (eBay), Alan Mulally (Ford), Sara Blakely (Spanx), and Eric Schmidt (Google) all worked with an external coach/advisor.
Executive Coaching engagements are structured in 6- and 12-month blocks.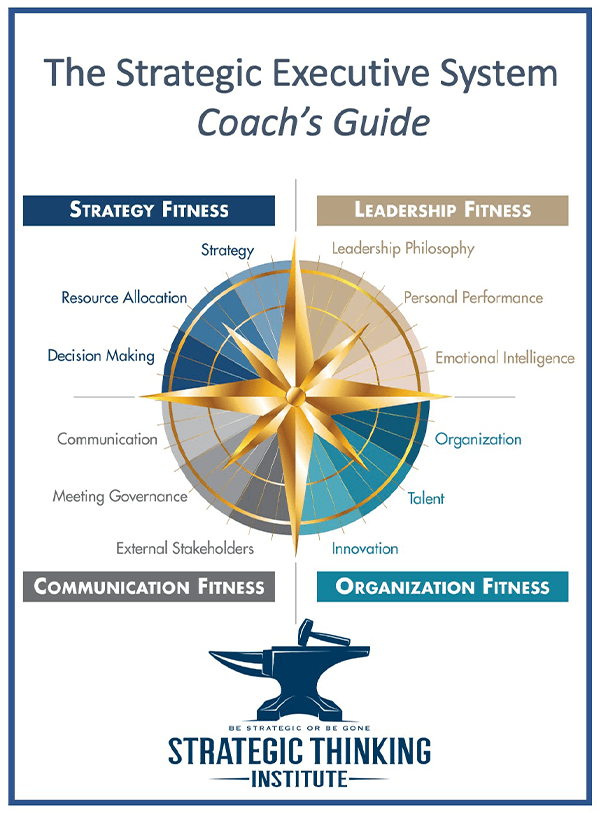 Learn about popular strategy topics to build your business acumen:
Sign up for the Strategic Thinker Newsletter and receive a FREE download of "The Strategic Thinking & Planning Primer" white paper