"Rich simplifies the complex topic of strategy using real-world examples and metaphors that bring it to life. I have applied these teachings to help me operate more strategically at work. Strategy for You takes the next step and provides a path to help people develop strategies for all aspects of their lives." Steve Denault, Senior Vice President of Human Resources, COUNTRY Financial
Think back on your life and how you arrived at where you are today. Did you envision where you wanted to be and then map out a strategy for getting there? Or, have you bounced around like a bumper car from one thing to the next? New research shows that only 15% of adults have a written plan for their life. But what if you believe that you have more to offer? Much more.
In Strategy for You, world-­renowned business strategist Rich Horwath provides a five-step plan for building a bridge to the life you want. Using the foundational principles of business strategy, he lays out the five steps you can take to create a more fulfilling and successful life:
DISCOVER: Uncover your purpose through insight.
DIFFERENTIATE: Identify your unique strengths.
DECIDE: Allocate your resources.
DESIGN: Develop your action plan.
DRIVE: Execute your plan.
Personal Strategy Quiz
Do you live strategically? Take the quiz to find out:
Strategy for You gives you the opportunity to maximize your true potential at work and at home. Are you ready to build a bridge to the life you want?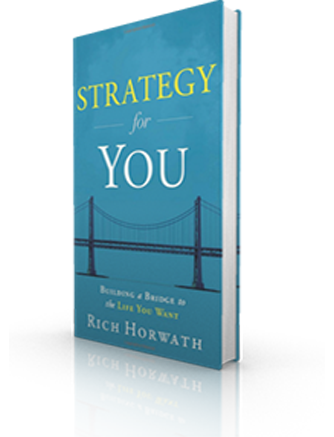 Online Course
Free Download
Strategy For You Chapter 1
Discussion Guide
Questions for book clubs