Partnering on Facilitation and Planning:
Facilitation of strategy conversations with your executive leadership team, cross-functional groups, and board of directors to enhance collaboration and set strategic direction.
Developing your leadership team's strategy skills during workshops and offsite sessions led by an expert strategy facilitator.
Leadership through all or part of the Deep Dive Strategy Process that is customized for your business.
Development of a two-page StrategyPrint, or blueprint for your business, that can be used by leaders at all levels.
A refresh of your strategy development process to simplify it and make it more actionable.
The Deep Dive Strategy Process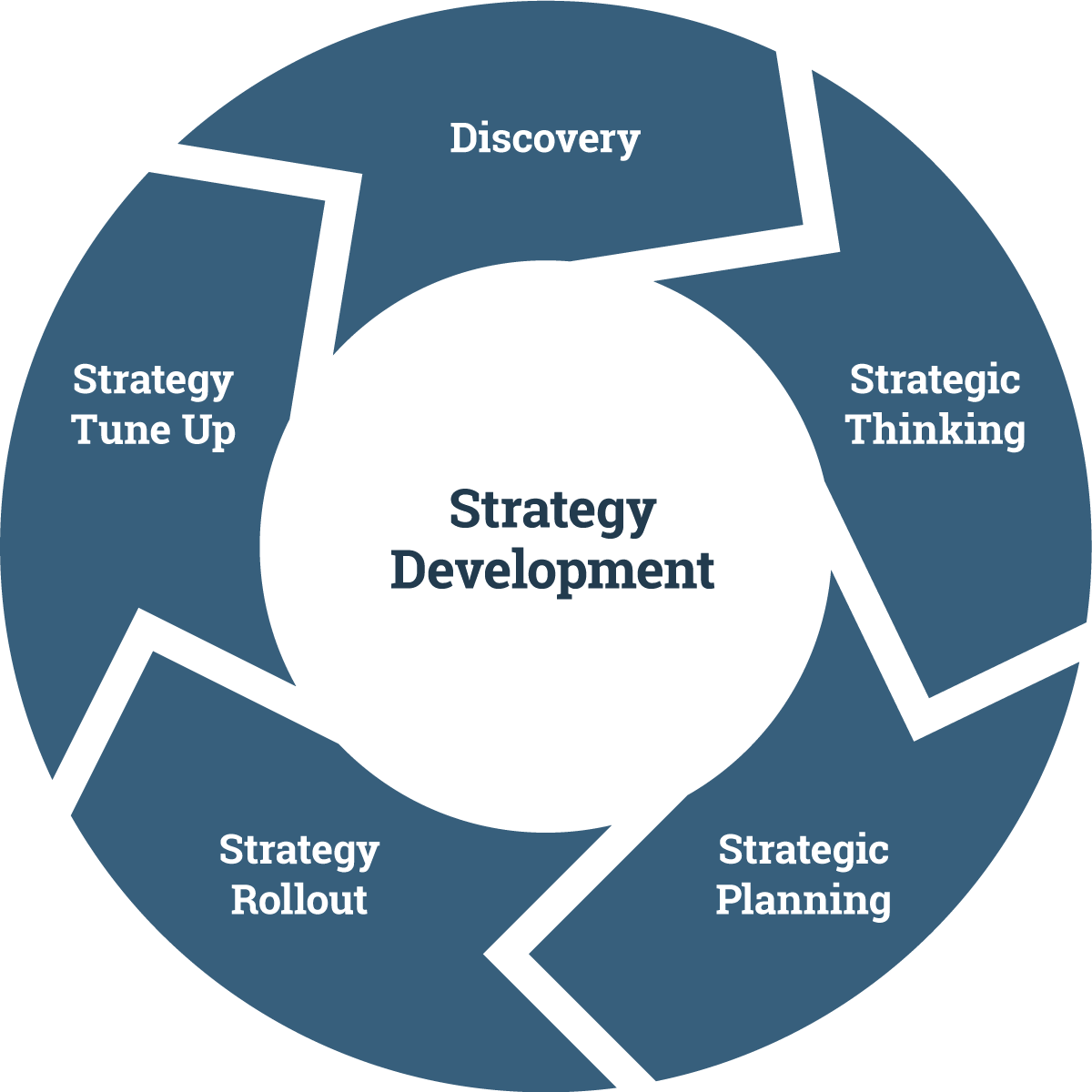 Designate the team.
Select the process.
Collect intelligence on market, customers, competitors and the company.
Complete the Strategy Survey.
Educate the strategy team.
Schedule strategic thinking session.
Develop the workshop flow.
Identify the strategic thinking models.
Lead the workshop.
Post-workshop review of models.
Identify the strategic plan format.
Transform insights into the plan.
Develop visuals to communicate the plan.
Review the plan with leadership.
Modify the plan.
Create rollout plan.
Secure the necessary resources.
Assign accountability for initiatives.
Communicate the plan.
Monitor strategy with metrics.
Schedule strategy tune-up sessions.
Determine the agenda.
Update strategic plan weekly.
Conduct strategy tune-up sessions.
Monitor the process.
Roll over each phase to see its steps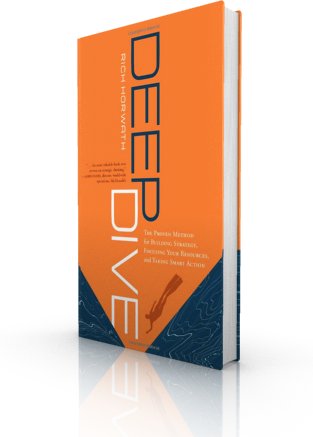 Case Study:
Development of Strategic Thinking & Planning Process
CLIENT
Technology Company, 4,200 employees
CHALLENGE
Company did not have a consistent thinking and planning process in place and the quality of strategy differed dramatically across the organization. Desire was to create a uniform strategic thinking and planning process for the organization while at the same time, build the strategic thinking skills of its mid- and senior-level managers.
White Paper:
3 Keys to a Successful Strategy Off-Site Meeting
Nearly 9 out of 10 executives believe that their leadership meetings are not strategic or productive. Learn the 3 keys to facilitating a successful strategy session with your executive leadership team.


Read More
Rich's Deep Dive Strategic Thinking session with our global leadership team was incredibly valuable, serving as a springboard for our strategic planning process. The session provided my executive team with a methodical way of thinking about strategy and the tools to do so. There has been an immediate impact in the elevation in the way in which my team is thinking about strategy for the long-term health of our business. I give Rich my highest recommendation."
Taryn Owen, President, PeopleScout
Rich is one of the top global thought leaders on strategy. His interactive Deep Dive Strategic Thinking Process helped our leadership team not only develop their strategic thinking skills, but also their strategic action, and execution skills. His approach was tailored to our specific current business issues and his delivery was practical and easy to grasp."
Carl Willis, VP, Human Resources, ATK
Rich Horwath did an exceptional job at helping our organization take a Deep Dive into how we were looking at strategy and planning. Since our Deep Dive session with Rich at our National Meeting, we have received feedback throughout the organization that it was the best session they have ever attended. The skills and tools have immediately made an impact on our organization."
John Berrios, Director Channel Marketing, Bayer   
How does your current
strategic plan rate?
Take the 1-minute quiz to find out
Are your strategy sessions productive?
Take the 1-minute quiz to find out
Schedule an introductory call to discuss your team's needs